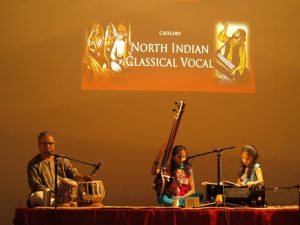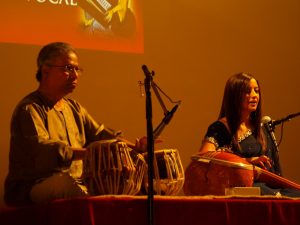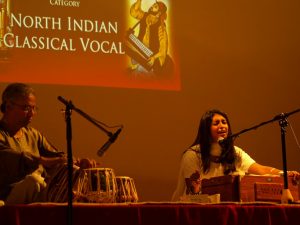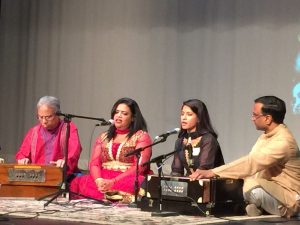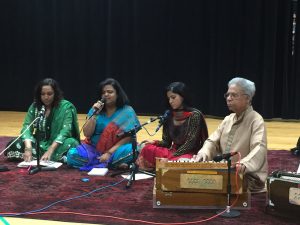 Ustad Hamid Hossain was born in a musical family in Murshidabad, West Bengal, India. He received his talim in tabla, sitar and Hindustani classical vocal from his renowned father, Ustad Kader Buksh, one of India's foremost musicologist/musician. A civil engineer by academics, he decided to dedicate his life to the propagation of Indian music throughout the world.  Since he loved music completely, he decided that he would try to perform in all three different art forms. He did not want to sacrifice his love for the Sitar, Tabla or Vocal music and thus decided to learn and perform all three.
He moved to Bangladesh in 1968 and became one of Bangladesh's most well known and respected musician and teacher of music. From there, he built a solid base in the understanding of how to teach the music that was taught to him.  He stayed in Bangladesh for a few years performing for Radio Bangladesh often and teaching hundreds of students. At this time in his life, he received the offer to migrate to the United States.  Although he did not know what the opportunities were that existed in the United States as far as Indian music was concerned, he decided to migrate and see what he could do. By the early 70s, Indian music was gaining recognition throughout the world due to the efforts of Pandit Ravi Shankar, Ustad Ali Akbar Khan and Ustad Vilayat Khan.
He immediately started to seek out like minded individuals and people who wanted to learn about music.  He was successful to such an extent that music became his only profession; he taught regularly maintaining a wide group of students and also performed through out the United States.
Ustad Hamid Hossain was recruited by the University of Maryland Baltimore County, to help them start a Indian music department since the University was known for its ethnomusicology program at that time. Dr. Mantle Hood, from UCLA and many other luminaries of the academic ethnomusicology world was at the music department at UMBC.  Ustad Hossain started teaching various courses in Indian music at UMBC and his affiliation has lasted to this day.  In 1982, he started envisioning an All USA Indian Music and Dance Competition that would be held at UMBC every year.  His vision was not to make it such a competitive environment but rather an environment that would facilitate competition and improvements in music.  All his students and many students throughout the United States gathered in Baltimore for two days in November 1982.  Students from all ranges were present from beginners to advance from 5 in age to 75 in age.  It was a remarkable event and was recognized as a truly ground breaking event that brought together members of many communities, including Pakistani, Bangladeshi, Indian and American community.  This competition is now almost 25 years in running. One of the only competition to be held out of India that has run for this amount of time. It has received awards from three presidents of the United States. The mayor of Baltimore, the Governor of Maryland including all three Ambassadors from the Pakistan, Bangladesh and Indian Embassy have been present for different competitions. For the last 3 years, United States Senator, Paul Sarbanes (D-MD) has come to witness the events and distribute trophies in the last three years.  He has said that this is one of the truly unique events he has ever been to and he would come as many times as he could.
In 1991, he started Aimrec to record and distribute classical compact discs of Indian music. The releases so far have been great and numerous and many top luminaries of Indian music are on this label, including Ajoy Chakraborty, Rashid Khan, Shujaat Khan, Budhaditya Mukherjee and many others.  Aim Records, later turned into Aimrec.com and has since published many interactive and wonderful Indian music products.
He is the executive producer of Sangeetpedia. He believes till this day that the most important aspect of his life, why he was born, was to propagate Indian classical music throughout the world.  Ustad Hamid Hossain has had many students throughout his life in music.  His students love him to the level of worship, because he not only teaches them music but gives and instills upon them a philosophy of life.  Today, he has a waiting list of at least 20 students at any given time and is teaching at various different places in the United States.  He is perhaps the most well known Indian music teacher outside of India and his life is a testament that foremost, his love for music and the propagation of Indian music is undisputed. He is the father and guru of one of the creators of Sangeetpedia, Enayet Hossain, a well recognized tabla player based in the United States.